Modular Electrical Substation
Modular Electrical Substation
General
The Substation Generally is Manufactured in steel Profile and Corrugated sheets Completely Welded, Endowed of Certified Insulation Spread also to Doors and Openings for Fire Resistance when Needed and IP Degree to Satisfy any Harsh Environmental Condition from very High to very Low Temperature.
All Systems Produced and Inspected by BSS can Satisfy Customers' Requirements and Reduce the Time and Cost Required for Installation and Pilot Operation.
Electrical & Major Equipments
MV Switchgears up to 36 kV
LV Switchgears : Power Center, MCC : Motor Control Center
LV Auxiliary Panel
Explosion Proof Control Panels
PLC Control Panel
SCADA
PMS
AC / DC UPS
VFD
HVAC
Fire Fighting System
F & G
ESD
Modular Power Supply Business
Electrical Substation Disadvantages
Physical Size of the Operation
Environmental Conditions
Long Operational Hours
High-risk Area, Insufficient Expandability
Fast to Deploy

Reliable & Safety

Easy to Upgrade
Modural Electrical Substation
Modular Design

Saves Time, Money

Ensures Personal Safety

Customizable
Easy Installation

Pre-fabricated
Pre-tested

Optimized Cost
Specification
Switchgear
MV & LV Equipment
MCCs
Intelligent Meters
Transformers
UPS, Batteries
HVAC, Fire & Lighting Equipment
Pre-assembled in a Controlled Environment
Easily Integrated
Maximum Protection for Equipment
Flexibility in Design and Upgrading
Energy Monitoring and Control System
Remotely Control Equipment
Extensive Support Services
Consultation and Maintenance Services
Reduced Installation Time
Complete Safety of Operations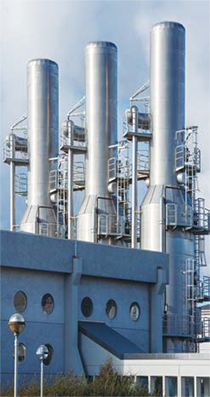 Design Basic
※ Scroll Left / Right to Check the Contents.
ITEM
SPECIFICATION
REMARK
ENVIRONMENTAL CONDITION
Operating Temperatures
-20℃ ~ + 50℃
Relative Humidity
Up to 90%
Climate Range
Hot Desert Climate ~ Clod Arctic Climate
Wind Velocity
Up to 40㎧ (140㎞/h)
Snow Loads
Up to 1 Meter of Snow
Seismic Loads
Specific to Site, up to 0.18g
BUILDING CONSTRUCTION
Dimensions
Building Dimensions are Designed in Accordance with Customer Spec.
Ambient Overpressure
Customer Request and Specification Application
Insulation u-value
< 0.5 w/㎡/k
Ingress Degree of Protection for Enclosures
Up to IP54 Grade(Non-Certificate, Water Spray Test)
Fire Resistance
Customer Request and Specification Application
Blast-resistance Building Design
Customer Request and Specification Application
Rust and Corrosion Protection
Zinc-rich Painting Cycle with 275 μm Dry Coat Hot Dip Galvanizing
Basic Concept Design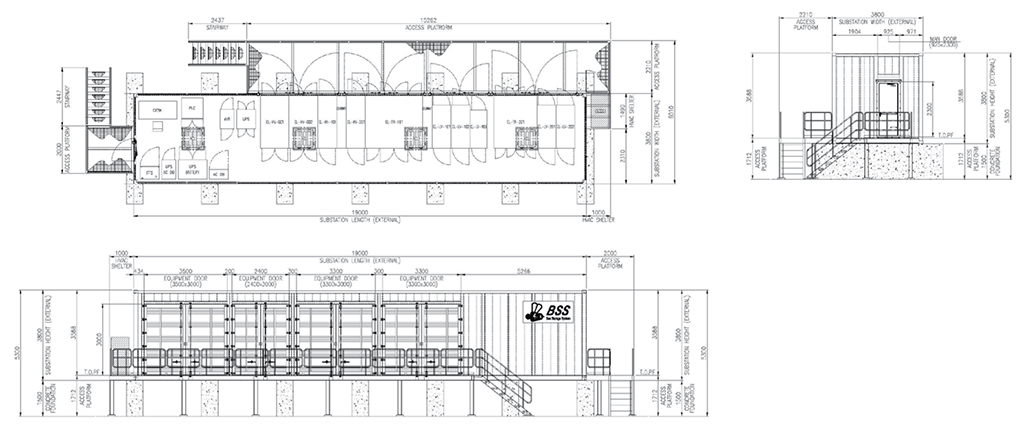 Basic Concept Design
※ Scroll Left / Right to Check the Contents.
DESCRIPTION
ACTIVITY
SOW
REMARK
Client
BSS
Engineering
Main Electrical Equipment
Switchgear, Transformer, UPS, Battery
Detailed Design(Structural, Elect., HVAC, Architecture, Fire Alarm System)
Including Substation GA, Structure Calculation
Structural Analysis & Calculation
Shop Drawing
Procurement
Bulk
Steel / E & I / Architecture
Cable, Conduit, Tray, Etc.
Equipment
HVAC
Major Power Generation Eequipment
Including HV & LV Switchgear, Transformer, UPS, Battery, PCS, DC PANEL, PMS / EMS, Etc.
Fire Suppression, F & G
Lighting / Heating / Ccommunication
Construction
Production, Assembly, System Integration
Include Tagging Item
Test & Punch Clear
Pre - Commissioning
Major Equipment and HVAC, Fire Alarm
Load - Out
Packing and Shipment Preparation
Load-out (FOB BSS Yard)
Transportation