ESS&PV EPC
Currently, the Installation of About PV 15 MWp / ESS 40 MWh was Completed.
Business uptime is Guaranteed through Differentiated Implementation Strategies and No-fault Construction.
SOLAR PV
It is the form of Power Generation that Converts DC Electricity Generated from Sunlight into AC Electricity, which is the Rapidly Growing form Among Energy Technologies.
Engineering Services

Site survey and Business Feasibility Analysis
Design Optimized for PV / ESS

Procurement Services

Applied to Certified Products of High Quality
Compliance of International Standards and Quality Assurance
ENERGY STORAGE
Key Infrastructure for Electric Power Management Developed from Renewable Energy
Construction Services

Field Installation
System Integration
Inspection

O&M Services

Follow-up Service and Maintenance / Repair
Power Generation Equipment Monitoring
Solar Farm

Business
Feasibility

EPC
Turn-Key
Solutions

ESS Facility
EPC Business Process Management
For a Leap into an Enterprise Specialized in GREEN ENERGY BUSINESS, the BSS is Retaining Powerful Project Implementation Strategies and Competence
Site Analysis
Optimized Design Solution
Expertise in ESS & PV

Certified Products of High Quality
Procurement and Distribution Service Construction
Assurance of the Best Performance Conditions

Compliance of Installation Schedule
Thorough Field Management and Pilot Operation
Observance of Safety Regulations
Field Monitoring and Quality Inspection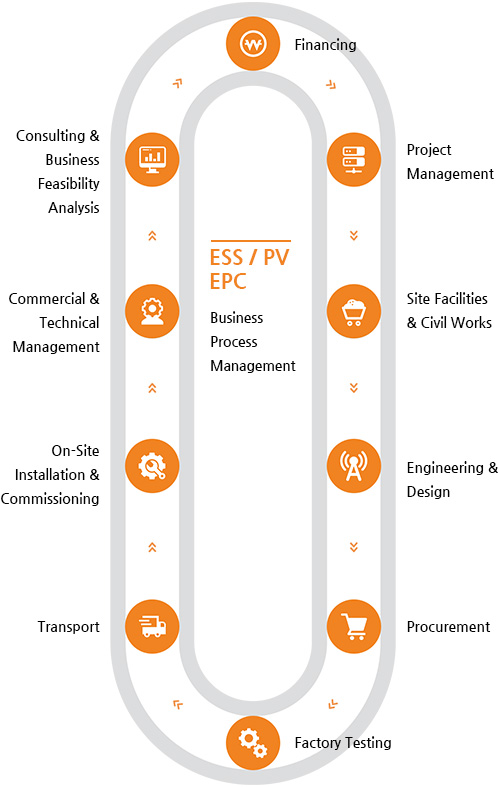 Energy Storage System
BSS Designs, Manufactures, and Supplies the Safest and Custom-tailored Energy Storage System that Guarantees Performance.
ENERGY STORAGE SYSTEM COMPONENTS AND FUNCTION
PCSENGINEERING
ESS-dedicated AC-DC Converter
Adjusts DC Power of the Battery to System Frequency and Voltage
Charging / Discharging of Battery

PMS & EMS
PMS/EMS that Control ESS
States Control & Monitoring of Battery / PCS
Automatic Charging and Discharging According to demand Management Operation and New Renewable Energy Generation
Providing Optimized Driving Algorithm
Power HMI Tool, Dash Board / Charts, Custom Reports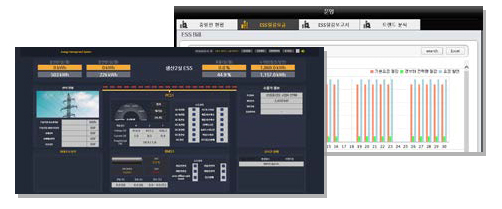 BATTERY
Basic Configuration of Power Charging, BATTERY + BMS
BMS is a Battery Management System that Controls Battery Charge / Discharge Status and Executes Control
Composed of CELL / TRAY / RACK / BMS

ELECTRICAL PANEL
Exclusive use of ESS TR, ACB, BCP etc. Variety of Electrical Panel
Power Relay, Maximum Demand watt Hour Meter, Digital Meter, etc.

ETC.
Air Conditioning and Fire-fighting Equipment etc
Design / Construction / Supervision / Inspection before Use / Comprehensive Pilot Operation

Solar PV System
We affirm the Responsible Completion by Sorting the Individual Materials Verified at Domestic and Overseas Prominent Sites
PV SYSTEM COMPONENTS AND FUNCTION
PV Panel & Structural System

PV Panel
Solar Panels are Collections of Solar cells Intended to Convert Solar Light Energy into Electrical Energy
Structural System
Metal Structure System that Constitutes PV Array by Mounting PV Panel

PV String Inverter

A System that Converts DC Power from Solar Energy into AC
Improving Power Generation Quality, Reliability, and Operating Ratio
Checking Disabled Position and Minimizing the Power Generation Loss
Convenient Maintenance / Repair

Electrical Panel

Exclusive use of PV TR, ACB etc. Variety of Electrical Panel
Power Relay, Digital Power Meter, etc.

PV Monitoring System

Monitoring the States of PV Array and STRING Inverter and Analyzing the Power Generation